One of the great advantages of working in the travel industry is discovering a hotel just prior to it becoming a sensation.  I've been fortunate to have traveled to many that have become destinations unto themselves.    The Amanzoe in the Peloponnese, the Four Seasons Bosphorus in Istanbul and the Andronis Suites in Santorini are but three in a long list of properties that have become accommodation icons in their respective destinations.   Each of these hotels possesses similar innate yet vital qualities such as an attention to detail bordering on the obsessive, professional yet discreet service, supremely comfortable beds and wonderful bathrooms.   What makes them different from each other is their inextricable connection with their physical and historical surroundings.  Nothing, though, had prepared me for our encounter with near perfection while on our annual inspection tour of Tuscany this past November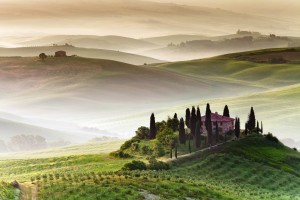 Val d'Orcia, Tuscany
I must confess that I have fallen completely, convincingly and hopelessly in love with the Val d'Orcia region of Italy.  This stunning area is home to the villages of Montalcino, Pienza & San Quirico d'Orcia and sits beside another of the iconic Tuscan towns,  Montepulciano.  Medieval hill-top villages perch above rolling fields that change color with the seasons.  Additionally, the food is a revelation.   Pienza's pecorino cheese couples superbly with the elegance of Montalcino's Brunello wine.  A pleasant side-note is that these villages & towns are within less than an hour's drive of each other, making daily excursions possible from your hotel, apartment or villa.  The Val d'Orcia is also home to my favorite hotel.  Not my favorite hotel in Italy, but my favorite hotel.  Ever
We scheduled ourselves to pick up our rental car from Fiumicino airport outside Rome and drive approximately 3 GPS-aided hours to a village near Buonconvento in southwestern Tuscany.  Due to a couple of unforeseen circumstances, we ended up extended our drive by around 90 minutes.  We missed our exit for the Autostrada while I was peeling the skin off a mandarin orange.  Apparently, I was supposed to give my brother, the driver, verbal directions as he was incapable of simultaneously driving and following the GPS program on his iPhone.  Not much of a problem if your idea of a relaxing country drive includes a Friday afternoon rush hour drive straight through the centre of Rome.  Couple this with an unexpected GPS recalculation of a more 'efficient' route through the centre of Italy and a nighttime arrival at our hotel was guaranteed
Arriving at the Castiglion del Bosco
"Arriving" at this hotel is a bit different.  First, it's situated on a hill-top in the middle of a private 4000 acre estate.  It takes approximately 5 minutes to drive from the entrance to the check-in pavilion.  Since we were driving in the dark, we had no idea what the topography was surrounding us.  The check-in was effortless, filling out forms in the comfort of couches arranged in an elegantly relaxed living room configuration.  I should have known I was in for a great time when I spotted the hand-made miniature Ferrari 250GT replica in the case above the mantle while filling out my passport information.   The attention to detail here is mind-boggling.
There are no "rooms" here.  In fact, this is not really a hotel but instead a medieval borgo or village that has been obsessively, painstakingly converted into a hotel.  Rooms, or suites, exist in at least 3 separate buildings located in the borgo.  No suite is smaller than 750 square feet.  The bathroom suites are adorned with nothing but the finest Italian marble and tile.  The shower room (soaker tub is on the other side of the bathroom suite) offers a rain shower with phenomenal water pressure.  The beds are otherworldly comfortable.  There is enough storage space in the closets to unpack a family of 4 for at least 2 weeks.  Walking through the suites fills you with an appreciation for how much work goes into making something so beautiful look so effortless & perfect.   One becomes immediately inspired.  It's beyond beautiful.  It's ravishing
Dinner, on this particular evening, was taken in the family style Osteria located in one of the largest buildings in the borgo.  It was our dumb luck that we also happened to be in Italy smack-dab in the middle of the truffle season. When the chef came out to greet his guests, our conversation quickly turned to his English accent, which I mistakenly placed from Montreal.  The Venice-born, Vancouver raised Canadian culinary artist is none other than Moreno Miotto, the former owner of one of the best new restaurants in Canada.  We had 3 dishes that were simple and mouth watering:  white truffle risotto, pecorino & white truffle pizza and the famous Florentine steak, the latter weighing in at a portly 1300 grams.  Yes, almost 3 pounds of Italian t-bone beef perfection.  All this was accompanied with the their own estate produced Brunello wine.  There was nowhere on earth is would have rather been.
I could go on and on about how the morning views from our terrace spilled out into the Val d'Orcia or that the swimming pool and glass-walled fitness centre overlook the mountain-top village of Montalcino.  I could also mention that the estate hired Tom Weiskopf to design an 18 hole links course on the estate or that you could hike the over 20 kilometres of private hiking trails.  I could go on and on….but I would rather let you know that, if you are ever inclined to experience something as close to perfection on earth as possible, please do yourself or your clients the biggest favor and book a stay at the Castiglione Del Bosco. It would be my pleasure to provide you with directions……
Sincerely,
Thomas Panos
Vice-President
Mediterranean Visits