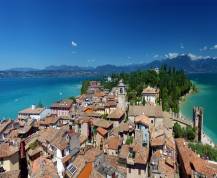 About Italy
Italy is one of the most beautiful countries in Europe, renowned throughout the world for its incredible food, wine, culture, architecture, fashion and stunning landscapes. With so many amazing cities and regions in one country and dozens of beautiful islands there are many reasons why Italy is considered to be one of the most romantic destinations in the world.
There are 20 regions in Italy and within those regions there are provinces. From the north to the south each region varies considerably in terms of cuisine, language, architecture and cultural influence. Sicily for example was strongly influenced by tje Arabic, Turkish and Greek cultures while the north has long standing traditions with the French, Austrians, German and Swiss. With such a compelling position in the Mediterranean, this ancient country has a deep military, political and cultural influence that is evident in numerous locations. The walled medival towns of Orvieto, Montepulciano and Montalcino hint at a feudal past while the ruins at the Forum in Rome highlight the empire that influenced the Western world for centuries. No matter where you go in Italy today you cannot help but to marvel at the numerous historic monuments which are seemingly everywhere.
Walking through the fantastic art capitals such as Rome, Florence and Venice in addition to the countless other towns which boast artistic treasures it will feel as though you are walking through your own private open air museum. Your architectural, historical, archeological, artistic and religious interests can be simultaneously satiated whilst walking through the historical centres of Florence, Venice, Rome, Milan, Turin and numerous other cities, towns and villages.
For us, to visit Italy is to commit oneself to opening the heart, mouth and eyes to life again. Here in the country where "La Vita e' Bella" (Llife is Beautiful) and "Under the Tuscan" sun were filmed, it is easy to understand why this country is home to La Dolce Vita - the sweet life and a place where travelers come to rediscover themselves and their lust for life