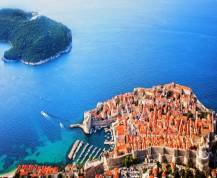 About Croatia
Travelling through any of Croatia's regions offers immense and rich experiences to every visitor. From the coastal to the continental parts, Croatia's rich cultural heritage combined with its magnificent natural beauties make it the perfect place to spend your vacation. The capital of Croatia is Zagreb, a charming medieval city of exceptional beauty known for its spirit and architecture, with a population of approximately 1 million. The city with a tradition of almost one thousand years celebrated in 1994 its 900th birthday. Over the years, Zagreb has become the scientific, political and economic center of Croatia.

The uniqueness of Croatia lies in its diversity. Situated between the Alps and the Adriatic Sea, Croatia provides visitors with the opportunity to ski in the winter and swim during the summer months, all within driving distance. With its 1.185 islands, islets and reefs, it is the most diverse coast on the Mediterranean. There are seven national parks in Croatia, three being in the mountainous regions (Risnjak, Paklenica and Plitvička Jezera), and four in the coastal regions (Kornati, Brijuni, Krka and Mljet).

To mention a few, Croatia is home to the Old City of Dubrovnik, Diocletians Palace in Split, Euphrasies Basilica in Poreč, the lakes Plitvička Jezera and many others. Croatia boasts the largest number of developed settlements in southeast Europe, in addition, many of which date back to Roman and medieval times. Rarely can you find so many examples of cultural and historical significance from different periods in such a small region.